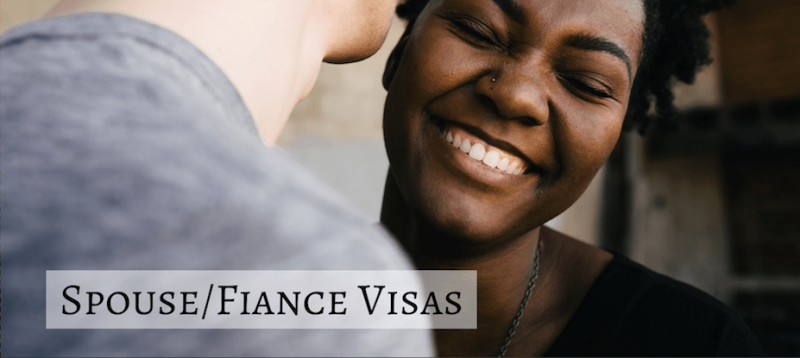 Would you like your foreign partner to join you in the UK? If so you, they will need to obtain a spouse visa/civil partnership or fiancé visa to lawfully enter the UK. Do you need clear, accurate legal advice on how to apply? If so, we can help!
The immigration rules are lengthy and complex and it is therefore very important to ensure that when an immigration application is made, the correct information and documentation to support the application is submitted to the UK government in order to achieve success in the visa application the first time around. It is therefore essential to obtain accurate legal advice before making any type of visa application. There are substantial fees that the Home Office charges (for in-country switching applications) or the British Embassy charges (for entry clearance applications) in order to process a spouse /fiancé/civil partnership visa. Currently, the Home Office charges a fee of £1033.00 to process such visa applications and the British Embassy charges a fee of £1,523.00. In addition, the Applicant is required to make a payment in respect of the Immigration Health Surcharge, which is a contribution made towards the NHS if they are successful in obtaining the visa with the intention to settle in the UK and usually is in the regions of £500-600.00.
To summarise the immigration criteria to be met by an Applicant to apply for such visas are:
Sponsor must be a British citizen or hold Indefinite Leave to Remain.
Sponsor must earn at least £18,600 p.a either as an employed or self-employed individual.
There must be documentary evidence that it is a genuine and subsisting relationship.
Evidence of suitable accommodation where the couple will live following their ceremony.
Foreign national must pass a relevant English test.
Where there are dependent children, the financial requirement to be met is higher.
The Home Office or British Embassy will generally grant the Applicant a 2.5 year initial visa if they have applied for either a spouse or civil partnership visa. A fiancé visa however, is granted for six months so that the Applicant may come to the U.K. in order to marry or have their civil partnership and then following the ceremony, the Applicant may then make an application to the Home Office to obtain a further 2.5 year extension to remain in the UK. Before expiry of the initial 2.5 year visa, the Applicant should then make a further visa extension application to the Home Office to request a further 2.5 year extension. After 5 years, the Applicant may apply for Indefinite Leave to Remain in the U.K.
Furthermore, it is possible to rely on other forms of income to satisfy the £18,600 per annum requirement including: funds from property rental income, income from investments, stocks and shares/ bonds and also from pensions and savings.
To read more information about spouse and fiancée visas, read our Principal Solicitor's article for helpful information: https://www.foreignersinuk.co.uk/guides/guides/family-in-the-uk/how-to-apply-for-a-spouse-fiance-civil-partnership-visa.html
Greenfields Solicitors has over a decade of experience in the assistance and processing of spouse/fiancé and civil partnership visas for clients who have successfully obtained these visas, both from inside and outside of the UK. Our specialist legal team is dedicated to ensuring that clients successfully obtain their choice of visa at the very first time they apply and we have a close to 100% record in first-time entry clearance applications for spouse, fiancé and civil partnerships visa. We also assist overstayers who make voluntary departures to their home country in order to apply for entry clearance in these categories and the firm enjoys an exceptionally high success record in assisting overstayers to return to the UK in such scenarios. If you would like to discuss making a visa application, please contact our friendly immigration team on 020 8884 1166 for assistance.